The different types of bitcoin and cryptocurrencies wallets (sketchnote)
August 03, 2019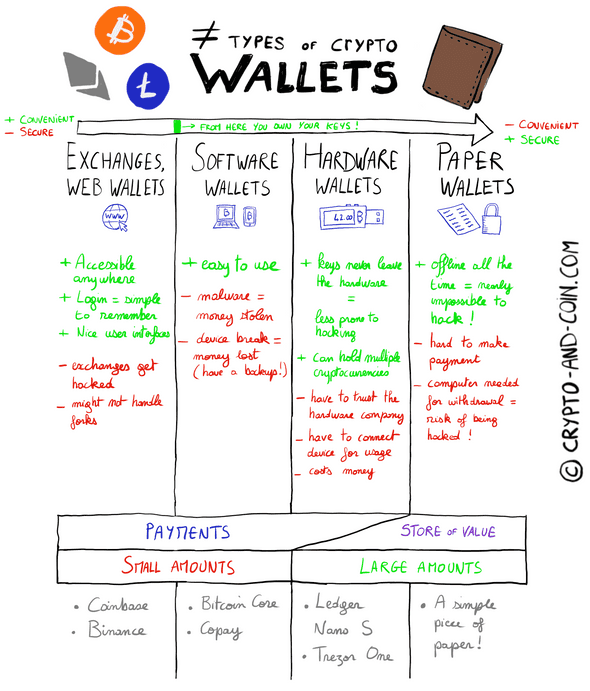 If you are looking for an article explaining what a wallet is, here is one!
Here is a transcript of this sketchnote:
From "more convenient, less secure" to "less convenient, more secure":
Exchanges, web wallets
pros:
accessible anywhere
login = simple to remember
nice user interfaces
cons:
exchanges get hacked
might not handle forks
usage:
amounts:
examples:
---
From there you own your keys!
---
Software wallets (mobile and desktop)
pros:
cons:
malware = money stolen
devices break = money lost (have a backup)
usage:
amounts:
examples:
Hardware wallets
pros:
keys never leave the hardware = less prone to hacking
can hold multiple cryptocurrencies
cons:
have to trust the hardware company
have to connect the device for usage
costs money
usage:
amounts:
examples:
Paper wallets
pros:
offline all the time = nearly impossible to hack!
cons:
hard to make payment
computer needed for withdrawal = risk of being hacked!
usage:
amounts:
examples:
---
Having a question or suggestion about the article?
Tell me on Twitter where I'm @vincentdnl!
---
Help others understand Bitcoin and cryptocurrencies by sharing this post!